What is Birthday Donation?
In promoting Birthday Donation..
With the spread of the Corona virus, we are all struggling to cope with this unprecedented experience and are living with uncertainty.
Amidst all this, the third phase of our Birthday Donation has started.
We initiated this Birthday Donation so that we can "Pass on the chain of hope to the future by supporting the children today" by reinventing the notion of birthdays to make it a day to thank for one's birth.
People from the organization supporting young people and children including foreigners told me how the Corona crisis has severely impacted the weak and those who had already been suffering under difficult circumstances.
Looking at the current state of the government, one can only assume that the budgetary constraint of the government that had already existed with decreasing birthrate and aging population will only accelerate as a result of this Corona crisis. The need and expectations for individual donations to grow will no doubt become even more prominent. I sincerely hope that this Birthday Donation can become one of the many waves to promote individual donations in Japan. If we can just add another spice to our compassionate nature, I believe and hope that we can create a new Japanese culture based on heart ("Kokoro").
Again, in our third phase, we have selected organizations that have been working hard to support and deliver glimmers of hope to the children and young people in need. I hope registered members will find joy in finding organizations to continue to support this year. As for the new applicants, please do join us to support the children that are struggling even more to find a connection or a place to belong to as a result of the Corona crisis.
I will also be grateful if you all could introduce this Birthday Donation initiative to your families and friends or even to your company that can choose its inauguration date as its birthday.
Let us all send our voice of support to the children that will be leading the next generation with this Birthday Donation!!
Yoko Takahashi
President,
Japan Philanthropic Association
How the system works / Flow of funds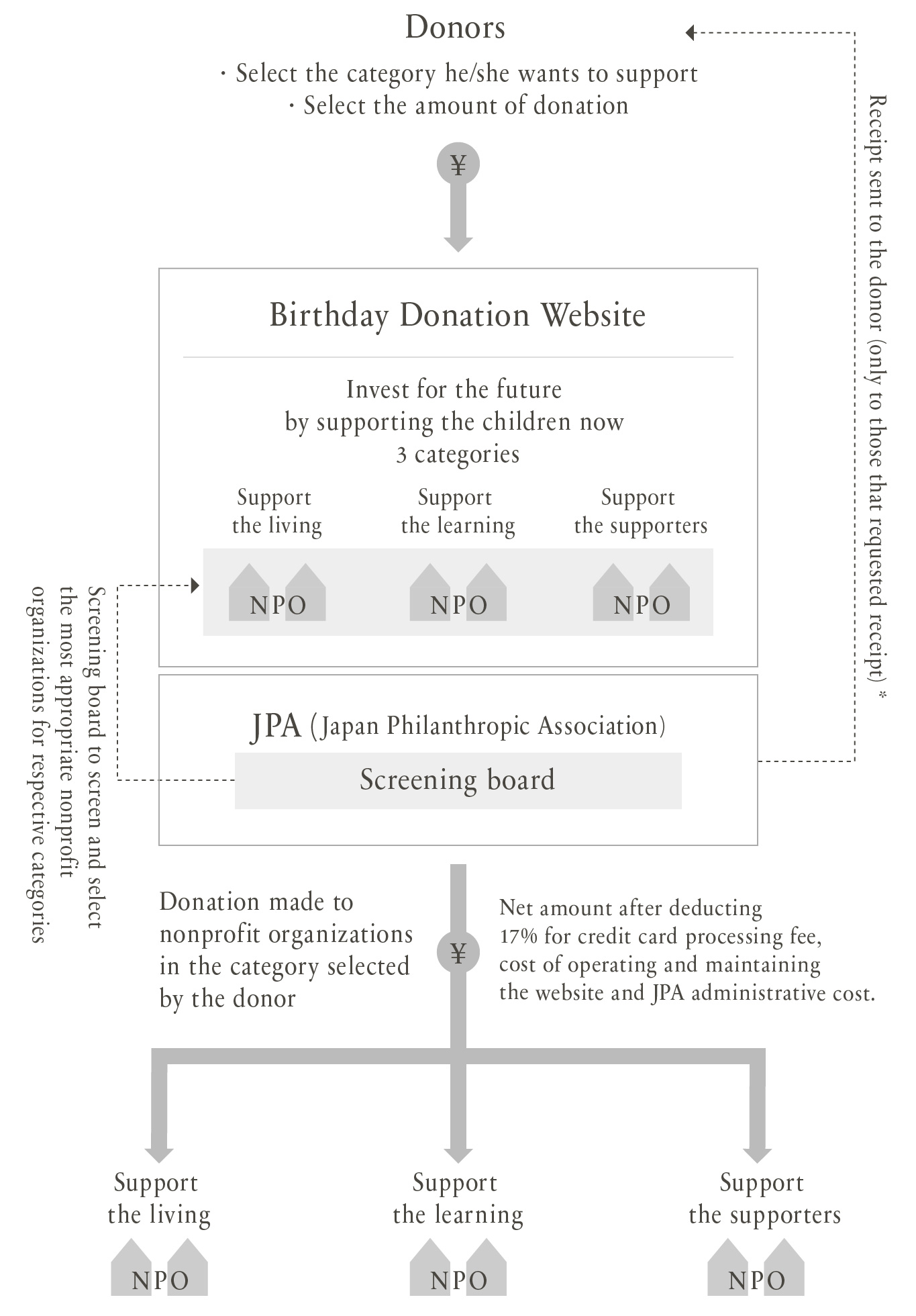 *You can receive tax merits for the donation made to JPA. Click here for details>
*Receipts
Any donation made to Japan Philanthropic Association ("JPA") will be treated as a donation to a Specified Public Interest Promotion Corporation and will be eligible for individual and corporate tax merits.
(About tax merits) https://www.philanthropy.or.jp/aboutus/donation/
If you with to receive a receipt for the donation, please select "request receipt" on the donation settlement page.
・If the donation is made by bank transfer :
We will send one receipt for the total amount donated during the year (1st January to 31st December) in January of the following year. Please contact us if you were to require a receipt for each donation made during the year.
・If the donation is made with a credit card :
The date on the receipt will be the date JPA received the money from the credit card company. Please therefore note that the date of the receipt for donations made during December will be the following year.
Japan Philanthropic Association, the operating entity
We at Japan Philanthropic Association believe that the first step to building a healthy democracy is for each individual, as an irreplaceable member of the society, to take proactive part in solving social issues and to contribute to the society by supporting and helping each other. We promote the learning and act of philanthropy by corporations, their staffs and clients as well as individuals such as young people. We also act as coordinators for the government, corporations and nonprofit organizations to collaborate with each other.